Hamilton Marine Girls in Grades 5, 6, 7, and 8 - Please read and share this important information about the First Season of Hamilton Middle School Gymnastics!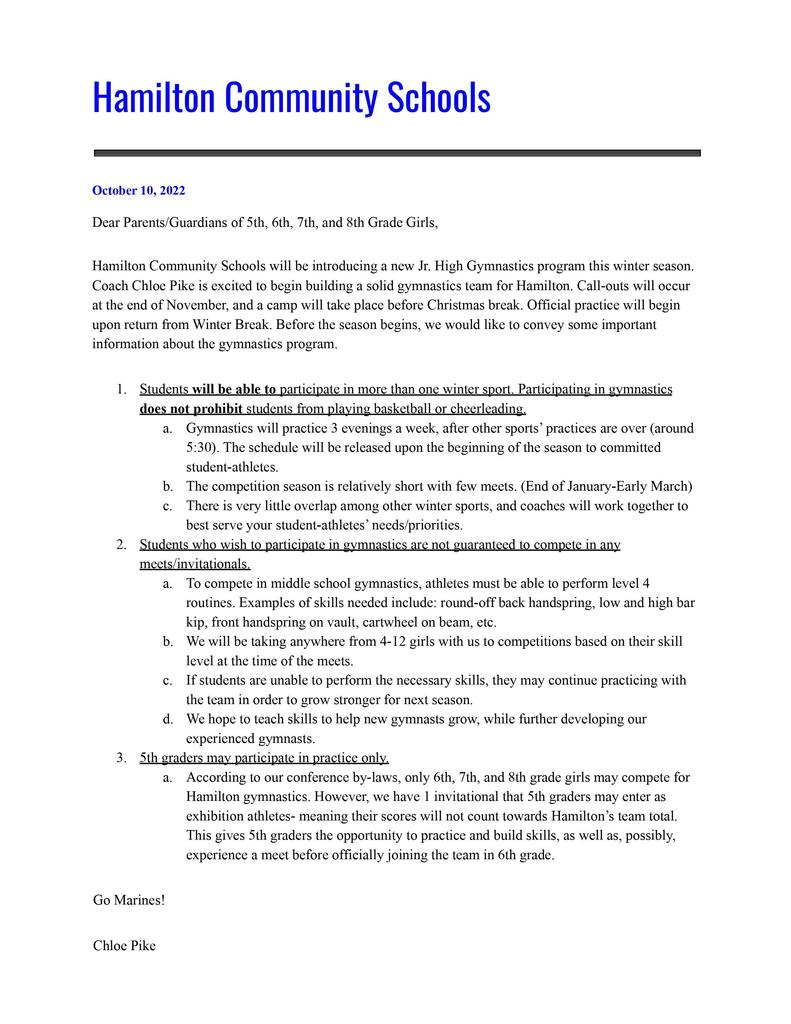 Parents are required to complete the HCS Policy Acknowledgement Form each school year. Please go to this link
https://forms.gle/mXTA5kPk25X27Y8M9
to open and complete the form. If you require a paper copy of the form please call your respective school office to request a paper copy. Thank You!

Hamilton Families - With the forecast predicting temperatures in the mid-40's for Friday evening, the decision has been made to move the PTO Fall Carnival into the elementary gymnasium. The Fall Carnival will still run from 6:00 - 8:00 p.m. Thank you for your understanding. We hope to see you all Friday night!
The Free Application for Federal Student Aid (FAFSA) opens October 1st. Students can file the FAFSA online at FAFSA.gov . Please reach out to Mrs. Brown with any questions.

Tuesday, September 20 - Hamilton Community Schools will be delayed 2 hours due to areas of dense fog. Drive safe out there!

Monday, September 19 - Hamilton Community Schools will be closed today due to a power outage. The make up day will be determined and communicated at a later time.

Monday, September 19 - Hamilton Community Schools will operate on a 2 hour delay due to a wide spread power outage. We will continue to monitor the situation and will report any changes if needed.

Hamilton Community School will operate on a 2 hour delay today, Friday, September 16 due to areas of dense fog. Be safe out there!

Hamilton Community Schools will be delayed two hours today, September 14. Fog is moving in from the west and north. Be safe out there!
Hamilton Community Schools picture day is Thursday, September 8. Picture flyers were sent home today with order information. You can also order online at
https://inter-state.com/FlyerEntry
. Please use order code 69182N for Hamilton Elementary School picture orders. Please use order code 69183F for Hamilton Jr-Sr High school picture orders.
Hamilton Community Schools Fall Tennis Clinic begins next week! Camp is open for all students in grade K-12, no tennis background needed, & equipment will be provided! Dates are as follows: 8/30, 9/13, 9/20, 9/27, 10/4. (K-4th 6-6:45pm & 5th-12th 6:45-8:15pm) Cost for K-4th is $20 & 5th-12th is $30 per student. Elementary registration forms will be sent home today and Jr/Sr High School registration forms will be available in the HS Office. Thank you!

Hamilton Community Schools understands that times are tough right now. The current economic situation can make even the simplest of purchases difficult. We believe in helping our Marine Family, therefore we are waiving the textbook and classroom fees for the 2022 – 2023 school year! We hope this small gesture helps our families this year. We are blessed to call each one of our students and their family part of OUR MARINE FAMILY! Small Town, Small School, BIG DREAMS!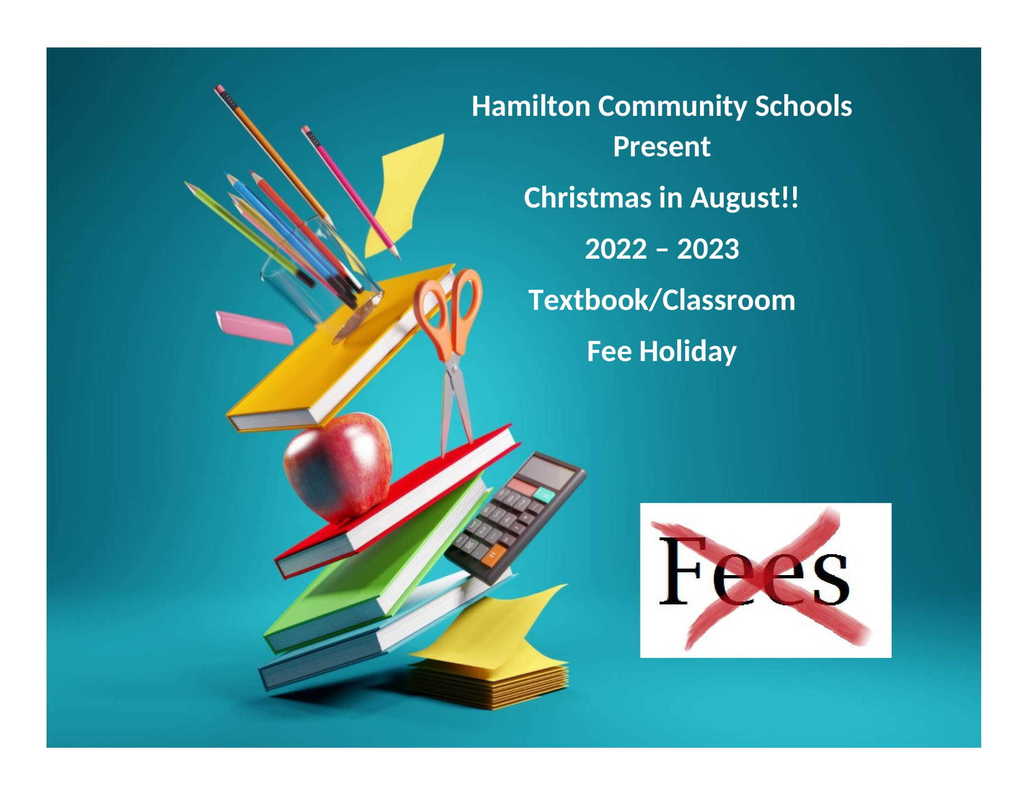 We are excited to announce our first Hamilton Community Schools Tennis Clinics! Equipment provided! See flyer for details! We are excited for the future of Marine Tennis!!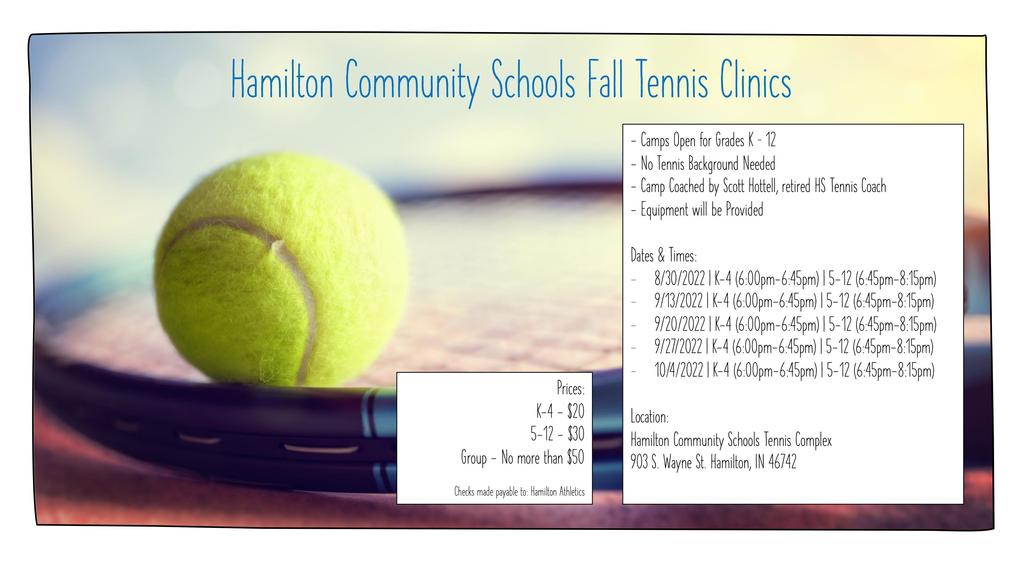 Parents please pull in through the Water Tower entrance for student drop off and pick up. PreK parents may use the main entrance. Thank you!
Just a friendly reminder that if your child does not pack his or her lunch or qualify for free/reduced meals they will need money added to their lunch account. This can be cash or check made payable to "Hamilton Community Schools" Thank you! Breakfast: $1.70 Lunch: $2.80
6th through 12th-grade students, if you have not done so already, please stop by the high school office to pick up your Chromebook this Friday (8 am to 3 pm) or the following Monday (8 am to 3 pm). Chromebooks are in suspend mode and need to be plugged in and turned on to remove them from suspend mode. This should be done before Wednesday to be ready for the first day of school. Thank You

Hamilton Marine Student Athletes - Just a reminder that all athletic forms must be completed through the following link. Many have not completed these. They must be done before practices start. Also, a physical is required to practice and participate.
https://hamilton-in.finalforms.com/

FREE HAIRCUTS! FIRST COME FIRST SERVED! Dawn Feeney from Off The Hook Barber is offering free back to school haircuts in the cafeteria at Hamilton Community Schools tomorrow, July 28 from 2:00 pm to 7:00 pm. So pop in and get that fresh cut for school!

Good Evening Marine Families! Fall Sports starts Monday, August 1 for cross country and hs volleyball. Schedules for jr/sr high cross country and hs volleyball are posted on the schools Facebook pages. Any students wanting to participate must have a completed physical before they can begin. Students who have difficulties with transportation to these required practices can contact Mr. May at
garry.may@hcs.k12.in.us
or Mr. Cassel at
Anthony.Cassel@hcs.k12.in.us
and we will make the necessary arrangements.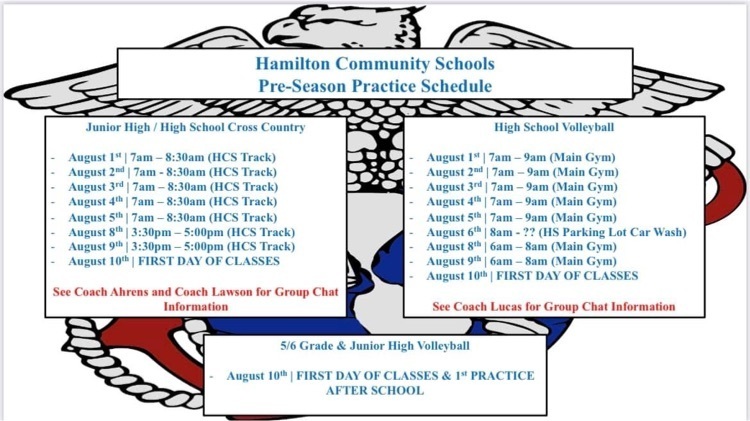 Good Morning! Would you like to get a jump on registration paperwork. Simply follow the link provided and it will speed up your registration on July 27/28. Thank you in advance! You may also access the link on our school website in the banner across the very top of the page!
https://www.hcs.k12.in.us/o/hcs/page/hcs-registration-information